Welcome to the Diversion Historic Preservation Society.
This section of the Diversion website is dedicated to preserving the history that eventually manifested as Diversion Video Magazine and Liquid [Frame].

When I first was introduced to the internet in Spetember 1995, there were only about 10-15 websites that had any content that was BMX related. The average person did not have an e-mail address, let alone a website or even knew what either one was.

BMX on the Internet
I was at the University of Michigan and had the opportunity to start exploring the internet. Back in those days digital video was just breaking into the scene and equipment was scarce. Macs came stock with 8 MB of RAM, 16MB if you were a player. I had 32 MB so I was Ballin'! ;-) I was fortunate enough to own a digital editing system and wanted to put BMX movies on the web. So I started the website "Bobby's BMX Freestyle World." In 1995, any kind of website with movie clips to download was rare. Below is the first BMX movie uploaded to the internet. It is a flatlander named Josh Evans from Michigan.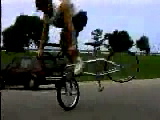 With the success of this clip in early 1996, I quickly uploaded movies of the flatland scene in Michigan. Then I expanded and introduced the how-to clips. The hits on the site blew off the roof. I wasn't updating the site and I was too busy in Organic Chemistry class to worry about website ratings. However people accused me of setting my counter manually becuase I kept gettting so many hits for such a long time without updating.

First Products Sold Online
At the same time I had also completed a video that covered the 1995 Oklahoma Bicycle Stunts Contest. I made 10 copies at home and decided to list it on my website for sale. As far as I know, no one had ever sold a BMX product online. I guess the boys at Hoffman got word of the video. They sent me a cease and desist letter. So that business venture was over before it even really started.

WORLDWIDE!
The next step in the revolution was in Summer of 1996 when I traveled to Singapore. Thanks to the BMX e-mail list, (Before PedalBMX or Backlash, riders communicated by being part of e-mail groups.) I was able to get in contact with some riders over there. I came back with footage and I put the clips on the site. These riders were also featured in a video called "Close Encounters of the RAD Kind!" I knew the internet was going to be a place where riders worldwide would be communicating. In September 1997, I was contacted by a rider in São Paulo, Brazil, who went by the name Claybom. He had movie clips, but no space to put them on the web so he sent them to me. This is the first clip he sent me.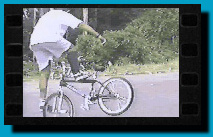 These guys were dope and until then, they never had a platform for exposure. For me, it was amazing. You have to remember that in the United States in the '90s if you even saw another person on a BMX bike it was a momentous occasion no matter if they rode flat, street, vert or whatever. Here were riders in a country where nobody would even expect Flatland to exist, riding at pro levels! They had been there all along, but there was no contact. Two years later, I took a trip down there and shot "The 25th Parallel." They told me I was the first person from outside the country to travel there to shoot BMX. It was an honor. Besides Brazil, riders from other countries such as France and Argentina also sent me materials to post on Bobby's BMX Freestyle World.

Bringing Back the How-to Video
With the success of the how-to clips on the site, I decided it was time to put together the full blown How-to video, "Hang-5: A Journey into the World of Flatland." At the time there weren't any BMX how-to videos except "101 Freestyle Tricks" from the late '80s and the "KHE flatschool." I sold the video from my site to people as far away as Pau Pau New Guinea! I even sold videos to guy in Iowa who worked at a bike shop. His name was PAT SCHOOLEN. Flatland Fuel was non-existant at the time. It wasn't long before there were other street and dirt jumping how-to videos made by the big magazines.

Dawn of a New Era in the new Millenium
By 1999, I had completed my 4 years of hard time at the University and it was time to move to California for Grad School.I dropped "Ground Zero" right before moving in 1999. "The 25th Parallel" and "Explorations" dropped in 2000. In these three videos, I experimented with new ways to present BMX in videos. I took a short break to make some short films for school and in 2002 started up again.
Diversion Video Magazine and Liquid [frame] were both spin offs from Bobby's Freestyle World. After the University, I didn't keep up the site well and only updated it once in a while. I've transferred it from the University of Michigan's server to Diversion's server for you to enjoy. After an overhaul in 1996 and sporadic graphic and video updates over the years, this is how the site looked when I decided to stop working on it.